Solar power is a green, quiet and clean energy alternative that generates electricity by utilising the power from the sun. These photovoltaic (PV) systems convert this power into a usable energy source – electricity.
Installing a complete PV system, comprising solar panels and a solar inverter, reduces your carbon footprint, saves you money on your utility bills and when paired with solar battery storage can ensure the lights stay on when the grid goes down.
How Do Solar Panels Work?
When the sun hits the solar panels, the particles of sunlight (photons) are converted into electrons of direct current (DC) electricity. Once this power is converted, the electrons begin to flow from the solar panel and into the inverter which is then ready be used in your home.
Given most homes and businesses are connected to (and wired for) an electricity grid that supplies alternating current (AC) electricity, power generated by solar power systems need to be transformed from DC electricity into AC electricity. We achieve this  by using an inverter.
Homes and business with solar PV systems utilise solar power before acquiring electricity from the grid, meaning less electricity purchased and lower electricity bills.
We have a more detailed overview of How Solar Panels Work in our knowledgebase.
How many solar panels do i need?
Solar panel system sizes are measured in kilowatts and are dependent on where you live, which direction your roof faces, and how clear your access is to the sun.
Taking this, we calculate how many solar panels you need by multiplying your household's hourly energy requirement by the peak sunlight hours for your area and dividing that by a panel's wattage.
Each kilowatt of your solar panel system will produce between 3 and 5 kWh of clean, renewable energy per day.
how long do solar panels last?
As a general rule, industry leading solar panels made from good quality components can last at least 25 years if properly maintained.
They do lose efficiency over time, as they suffer degradation from their ongoing exposure to the sun and outdoor weather.
how to clean solar panels?
Solar panels are usually installed at the right angle to self-clean whenever there's a solid downpour of rain.
In some locations, dust, grime, bird droppings, and salt residue may impact the efficiency of your panel array. In these instances, regular maintenance will keep your array at peak performance.
If you are considering getting your panels cleaned, we recommend using a qualified and accredited technician, rather than attempting this yourself.
Note, never use abrasive cleaners or sponges on your solar panels. This can irreparably damage the surface and severely impact the overall effectiveness of the panel.
What is a solar inverter?
Solar panels capture and generate electricity from the energy radiated by the sun in Direct Current (DC) form. Appliances in the household (or business) fed by the utility grid use 240V Alternating Current (AC).
A solar inverter 'inverts' one type of power to the other, protecting your appliances and grid connection in the process.
How does a solar inverter work?
A solar inverter is an appliance, about the size of a small medicine cabinet, commonly installed in an out of the way location such as a garage, carport or basement. Sometimes it makes sense to position the inverter close to the metre box.
Input feeds are run from the solar panel system on the roof to the inverter. An output feed is connected to the meter box where it can be separated into power needed inside the household, and excess energy that can be sold to utility companies.
Some inverters can be powered from the solar PV system, meaning they can continue to run in extended blackout situations.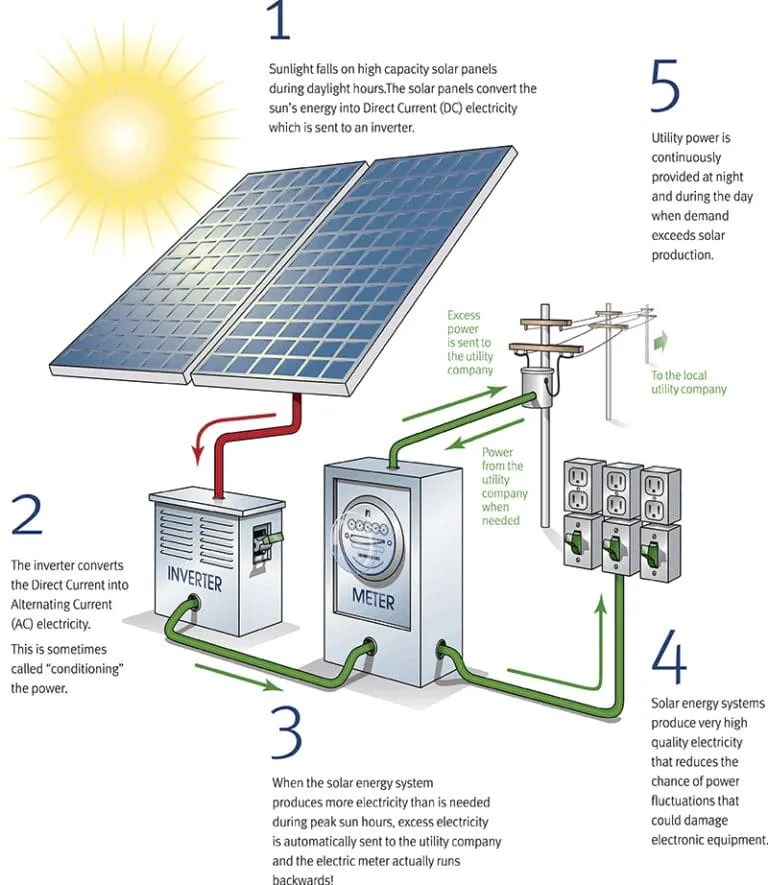 what is a feed in tariff (FiT)?
A solar feed in tariff (FiT) is a credit you receive for any excess solar energy your PV system generates and exports back to the power grid. Feed in tariffs are typically between 8 - 16c per kilowatt hour (kWh) however can vary in each state depending on your retailer.
Your feed in tariff is a critical component in determining your solar savings and payback period.
what is 'time of use' billing?
Many utility companies incorporate 'time of use' billing aka flexible pricing. Many will be familiar with the peak/off peak price of energy which differs from 'flat' or 'fixed' pricing per kWh.
By incorporating solar battery storage, solar power can be captured and sold back to the grid during peak times, thereby maximising the return on your investment.
SuperGreen Solutions offer a complete selection of domestic and commercial solar panel solutions. We can supply and install solar panels suitable for a single home PV setup, right through to large commercial solar array implementations.
Reduce your grid reliance
Solar power systems are a great financial investment which can drastically reduce your monthly electricity bills.
Installing solar panels can be as simple as redirecting funds you currently use for your monthly electricity bills.
Many local and state governments offer green energy benefits and rebates to promote the use of solar power in the home.
By incorporating our specialists into your home design stage, we can ensure a smooth integration of solar and battery storage into your new home.
Sell your surplus power back to your local utility company. Instead of paying energy bills, you get paid for the energy your solar power system makes.
Supporting a Green Future
With rising electricity costs and a considerable decrease in the cost of installing solar, businesses are now exploring how they can adapt their business models to take advantage of the new paradigm.
We can construct a package to suit both landlords and tenants, offering competitive arrangements to ensure all parties win.
Modular installations allow businesses to scale over time, implementing new technologies as funds become available.
Designed to assist businesses with the adoption and transition to a green technology and renewable energy future.
Supplying industry leading technology
With decades of experience, we've come to learn which solar panel technologies are right for Australian conditions – those that maintain their efficiency and their longevity battling our harsh conditions.
We've established partnerships with premiere manufactures, leaders in the solar cell and panel technology field. These are the partners who stand behind their products, offering lengthy panel lifespans and trusted warranties.
LG Solar continue to go from strength to strength in solar panel technologies, from longer warranties and higher efficiency to lower degradation.
Their NeON® 2 range one of the most widely used panels in the market with over 600,000 panels sold in Australia and NZ.
This panel is ideal for residential use, for those seeking a visually pleasing face and for roofs where space is limited or where future system expansions or battery storage is being considered.
Founded in 2001 in Ontario Canada, Canadian Solar is the name behind Australia's biggest solar farms and commercial solar panel installations.
At the cutting edge of research and development, Canadian Solar continuously strive to develop and deliver high efficiency solar products, recently achieving a world record 23.81% cell conversion efficiency on one of their newest panels.
Their solar panels come with an impressive 25 year minimum performance, along with a 10 year standard warranty on all inverters.
Founded in 2005, JA Solar is a high-performance photovoltaic product manufacturer, with 12 manufacturing bases around the world. They are best known for their silicon wafers, solar cells, modules and PV power stations.
JA Solar products are available in over 120 countries and regions worldwide, and are used extensively in ground based power plants, commercial and industrial rooftop PV systems, as well as residential rooftop PV systems.
Focused on continual technological innovation, sound fiscal performance, and well-established service networks, JA Solar is highly regarded across Australia.
Q CELLS, supporting the Australian community since 2009 and longer than any other manufacturer currently on the market.
With products developed specifically for Australian climates, unparallelled local support, and comprehensive testing facilities both in laboratories and in the field, they are a trusted provider for Australian consumers.
Q CELLS offer an exceptional 25-year warranty on their Q.ANTUM Technology, developed to maximize the efficiency of conventional solar modules.
As solar pioneers with more than 75 years of experience, Fronius are fostering the energy revolution. Their industry leading solar inverters, manufactured in Austria under strict quality guidelines, ensure electricity from photovoltaic systems can be used particularly efficiently.
The intelligent Fronius inverters, combined with the free Fronius Solar web monitoring tool, allows you can keep an eye on your energy yield and consumption at all times and get the most out of your photovoltaic system.  
With a Fronius photovoltaic system, you lay the foundation for a sustainable and cost-effective energy supply.
Talk to a solar panel expert today
If you're a business or homeowner considering the addition of solar panels to your home or workplace, consider SuperGreen Solutions first. We're your local, one stop energy efficient product store. Compare our products online or talk to one of our trained Energy Efficient Specialists at one of our dedicated showrooms today.